We were thrilled that one of our homes recently received a Regional Gold Award at the Master Builders House of the Year 2023 programme – not only for us, but for the owners of this stand-out property in Glendowie.
Building involves close partnerships and in this East Auckland project we were blessed with creative clients who held a strong vision. For site manager David Waugh, who has been part of the Box™ family for six years, it was a special recognition.
Dave, who leads one of our nine construction crews, has built seven homes from start to finish during his tenure with us. This one, with its split-gable roof, it's eye-catching mix of red brick and Abodo weatherboard cladding, and its energetic, involved clients, was a pleasure to work on, even though the build started just after Auckland's first lockdown in March 2020.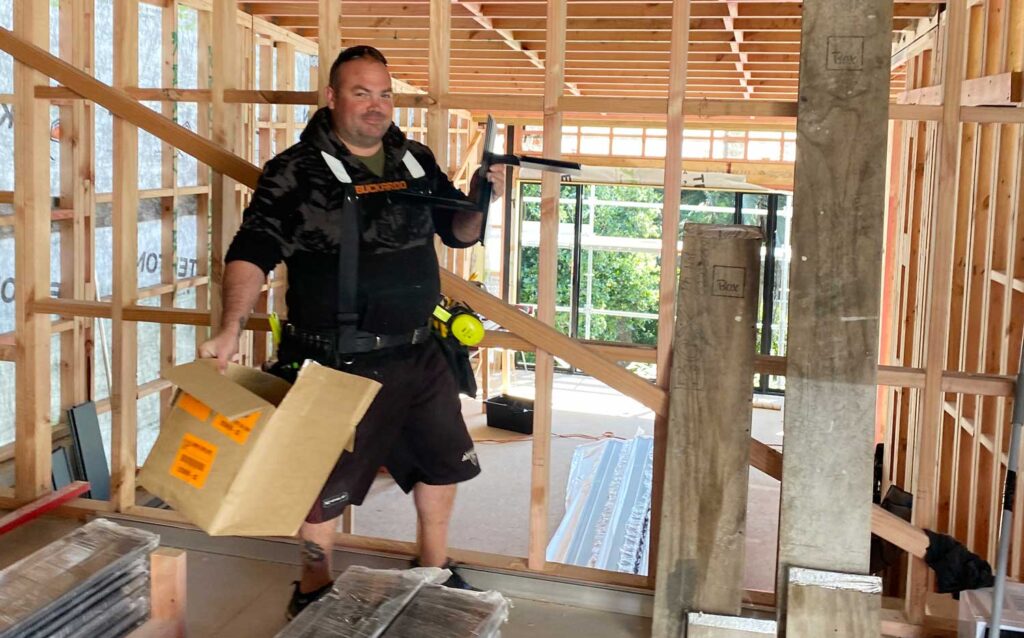 In this respect, Dave gives credit to the planning and material procurement guys in the office for their foresight and to the on-site sub trades for being so flexible. "From start to finish, the job just seemed to flow really well," he says. As he remembers it: "Everything fell into place when it was needed."
Ten months later, the keys were handed over and the roof shout was a reason to celebrate amidst the ongoing chaos of a global pandemic.
This is the first time one of Dave's builds has been entered into the Master Builder House of the Year programme. And it came up trumps. He feels proud to share his success with the rest of the crew. "It's great that there's so much flair coming out of the design studio for us to put together something bespoke. And it's good to know my build standard is up to it," he says in typical unassuming fashion. For Dave, who is the first builder in his family and who began his career running his own business where he was predominantly involved in renovations, being part of Box™ only has up sides. He now no longer has the stress of quoting and tendering for jobs, he has stability of continuous workflow and gets to oversee innovative new-builds that challenge and develop his skills. Best of all, though, he enjoys the wraparound support and friendship of a joined-up design-and-build team. "It's a rewarding work environment," he says. And he means both on the ground and in the office. "Every few months, we get together for drinks and the chance to mingle." It's not an opportunity he's likely to miss. It is relaxed connection such as this that builds communication, trust and understanding. It's what makes great teams. Award-winning ones.