An L-Shaped Future
A private spa surrounded by bush and a living room with views back to the city. This renovated home in West Auckland makes the most of two worlds – but it wasn't always the case. When Box™ was asked to alter this 1950s dwelling in Glen Eden, like our clients we immediately appreciated its mid-century qualities: a simple gable design clad in red brick so evocative of the era. However, while there were matai floors, a nice, raked ceiling and a groovy, crazy-paved fireplace wall to admire, other aspects weren't so laudable. Such as the fact it lacked an evident entry point (that was via the carport through a back door). There was also a paucity of storage and unnecessary corridors in the two-bedroom home and, of course, as was common at the time, the kitchen was disconnected from the living room.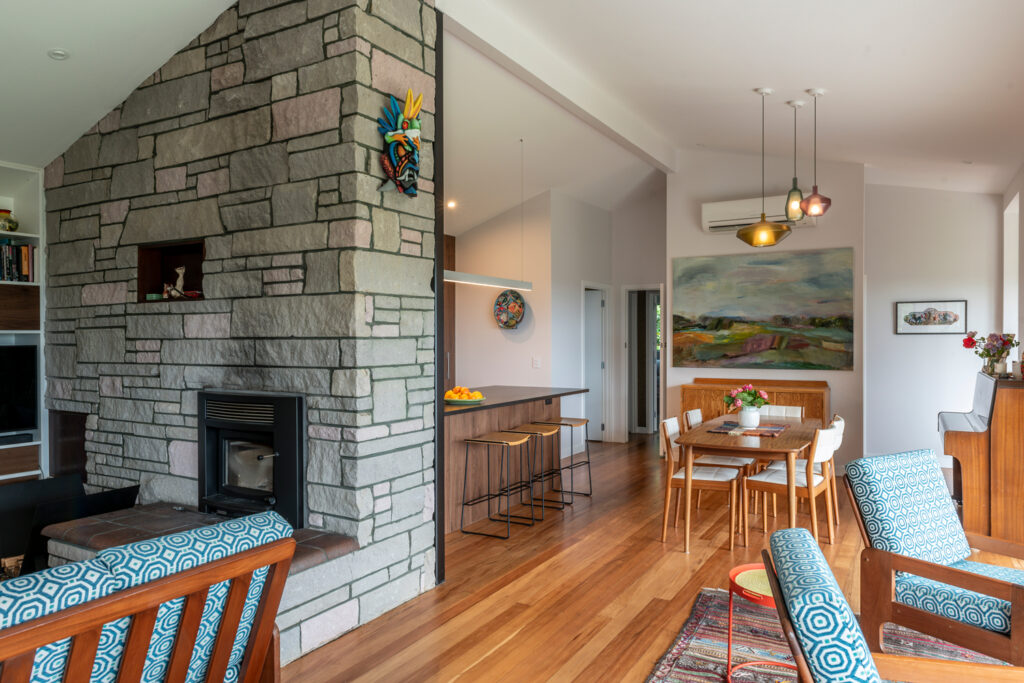 Fortunately, there was enough spare land on the site to add on a new wing at right angles to the existing dwelling, creating a classic L-shaped footprint. Instead of an 'extend-and-blend' approach, Box™ crafted a contemporary extension with a link that joins new to old. Although the two are coupled with a passageway, there's a definite sense of transition effected by a small flight of stairs between them, and a deck set within the embrace of the buildings. It is in this west-facing alfresco sanctuary that the owners can sink into the soothing waters of the spa, and the kauri grove backdrop is enhanced by planting that green up the scheme.
The addition contains the main bedroom and en suite (which can be accessed directly from the deck), an office and a meditation/yoga room, all set beneath a half gable which speaks to the roof of the original home.
While this wing is oriented west to face the bush, the layout of the main living room in the existing bungalow was replanned so that the updated kitchen and dining space take great advantage of their northerly aspect: the refreshed open-plan scheme celebrates the view of the city – close but not too close. Finally, on the street side, a new entrance with a canopy cover means visitors now enjoy a more definitive welcome to this haven in the Waitakere foothills.