Clients: Lara and Terence Stevens-Prior
Project: 4-bedroom house, with pool, in Mission Bay
In this series, we take a fly-on-the-wall look at the progressive stages of a Box™ build
Having dealt with their fair share of red tape in the building application process – when the geotech report necessitated a significant rethink – clients Terence and Lara have found the construction journey a relatively relaxed experience.


After a delayed start due to council requirements, the programme has run smoothly. Although site manager, David Waugh, still has nightmares about the rain that dogged the first few weeks, weather delays were factored into the contingency timeline, so all good. Everything is still on track.

The last time Terence set foot on the site six months ago the project was nothing more than a big hole in the ground, but Lara has been keeping him up to speed with monthly visits and has been astounded at the hundreds and hundreds of structural drawings it takes to ensure precision.

With her fear of heights, she was initially reticent to perch on scaffolding to appreciate the perspective from the three different levels of the house but now that the cladding is all but finished, and the interiors walls all framed up, she can get a good sense of the views without risking vertigo.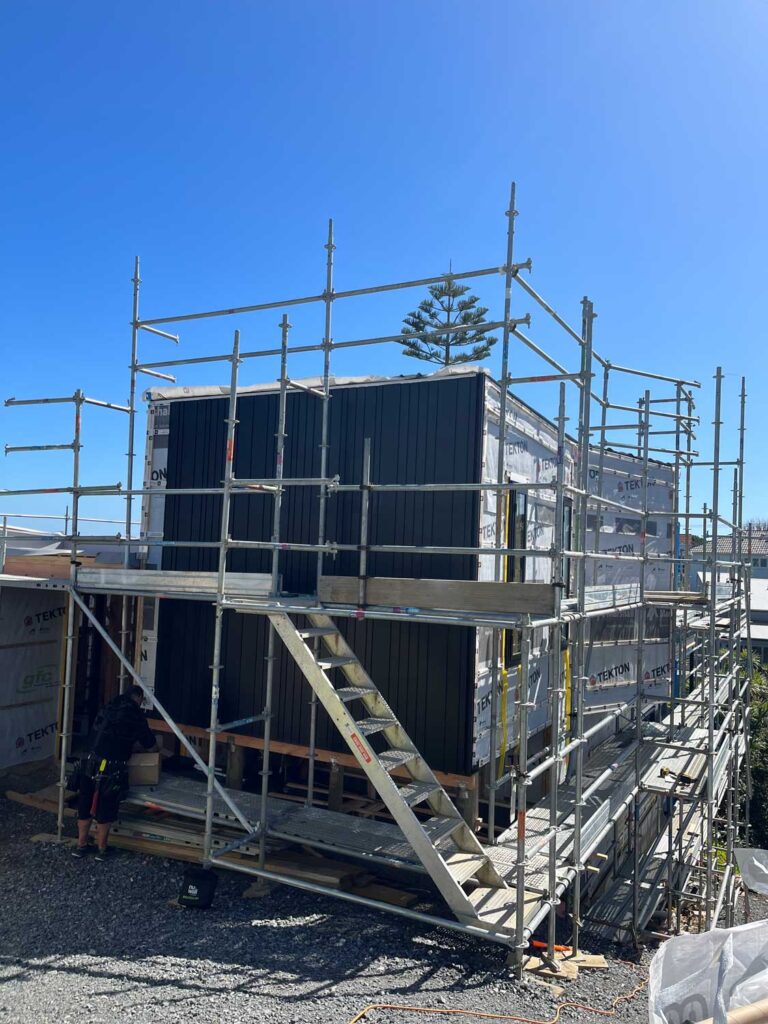 Lara has also been working closely with Box™ design lead Tim Hogarth to finalise some interior details (for example where the plug points go) as well as the materials and fittings in the kitchen and bathrooms. This involves the happy task of visiting showrooms together to look at samples. Setting eyes on a slab of leathered black granite destined to be a showpiece on the kitchen island top, she realised it was, in fact, dark-grey. Black is high on Lara's priority list, so she changed tack (fortunately before they had cut it to size). Now there's more research to be done which might, of course, have a knock-on effect for the cabinetry materials. No worries. There's still time and Plan B might turn out even better.

Through it all Lara says that Tim has been brilliant and patient and, despite the fact she isn't short of opinions, she has learned to trust his judgement. Even if you're not in the market for a new kitchen, she recommends you pop into the Fisher & Paykel Experience Centre in Grey Lynn – a work of art in itself. It's here she discovered the induction hob with an under-bench extractor which meant it could be used on the island without the visual interruption of a rangehood.

Being able to physically stand in the spaces, it's all making more sense. Lara feels it has been money well spent judiciously using 3.8-metre ceilings since they lend such an expansion of volume. Now, too, she can fully appreciate the beautiful way natural light moves through the home. The top floor is two-thirds sky and one third trees, whereas down below, it's far darker and cosier. A steep, difficult site brings its own rewards.

Lara loves the approach. That all you can see on the street corner is a tiny black box. It could be a studio? She finds it intriguing that the house only reveals itself slowly. As you enter and walk down the stairs, there's a growing sense of Oh My Goodness, she says. That descent from the street entry to the main level is a feeling no two and three-dimensional drawing on a computer could emulate.
Once the kitchen and bathroom fittings are finalised, she's off to meet the landscaper so he can draw up a natural planting plan that segues into the palms and cabbage trees of the backdrop. Then there's the installation of the black pool to look forward to. Its uncompromising surface will reflect navy and deep green tones – as moody and dramatic as the house itself.